Our Equipment

"Necessity is the Mother of Invention", and our equipment has evolved to fit the needs of the work we undertake.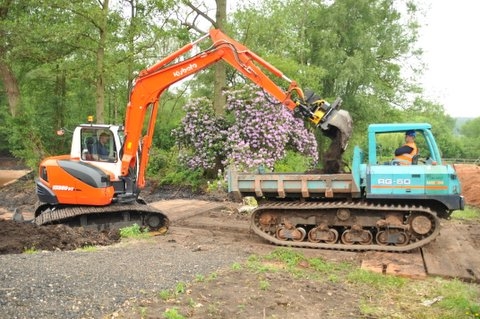 Sensitive sites demand respect and our Low Ground Pressure equipment treads lightly leaving minimal impact.
Once on site it is machine movements that can cause considerable damage, so we utilise the Engcon Tiltrotator system which allows the maximum potential of any attachment to be achieved within the working radius.

It is the effectiveness of this system which can produce very high workrates and standards of finish, often allowing smaller machinery to be utilised on site further reducing impact.

We are always mindful of the potential to damage the Environment, so we equip all machinery where possible with Biodegradable Hydraulic oils.

Unusually we are also now running machinery with Biodegradable Engine oils, and this is proving to be very successful giving additional peace of mind.

Whilst able to supply a full range of traditional Construction Plant machinery from Mini Excavators, Tracked/Wheeled Excavators, Tracked Loading Shovels to LGP Dozers, it was the need for something more specialised that led to the commissioning of a very high specification 8 tonne LGP Kubota Kx 080 Excavator.

This machine is fully equipped with the Engcon Tiltrotator System including Integral Grab, Bio Oils, 13,000kg Line Pull Hydraulic Winch and 900mm LGP tracks.

For ease of transport the machine is a maximum of 3.0m wide allowing movement without any notice or permits.

For safety it is equipped with all round vision mirrors and mesh protection guards for windows in certain applications.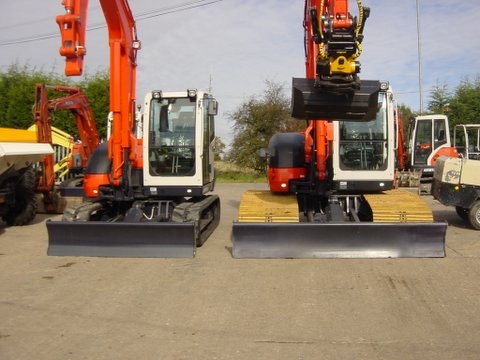 The machine was designed to allow easy access to sensitive sites, but also once there be able to carry a vast range of attachments.

Flail Mowers, Tree Shears, Selector Grabs, Weed Cutting Buckets and Post Knockers are some of the attachments that can be carried.

If your application demands something unusual, we can work with industry specialists to source or construct an attachment to suit.

The machine has enjoyed considerable success across a wide range of sites and applications, which can be viewed in our Recent Projects and Gallery.

To complement this machine we utilise Tracked Dumpers, which are able to traverse the very worst of terrain with minimal impact.

These remarkable machines are also great tool carriers and can be equipped with Timber Bolsters, Flat Beds, Chip Bins, Hiab/Timber Cranes or even Post Knockers to suit your application.

In addition to this we pride ourselves in our ability to forge strong links with other industry specialists, bringing men and equipment together to reach the most effective solution for our clients.

Examples of this are fully qualified Chainsaw and Sprayer Operatives and Large Wood Shredding machinery.
We only include trusted Suppliers and Contractors in our Links page that have provided actual services to us.

We are always looking at new ways to achieve solutions that are Safer and more Cost Effective and will work with clients to provide the very latest technology for their projects.